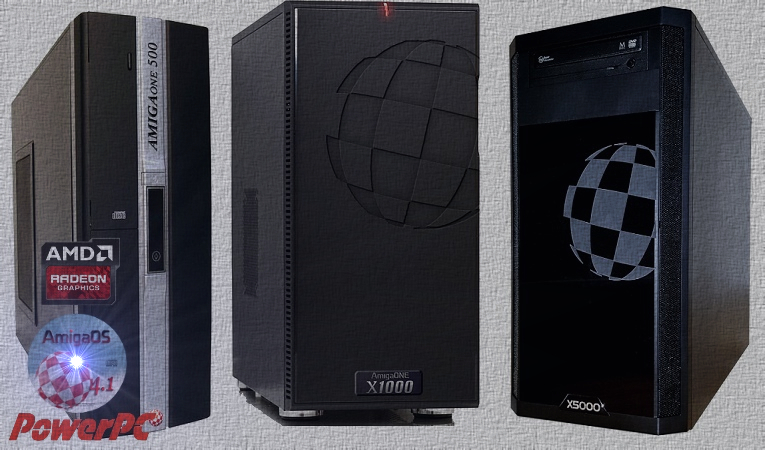 AmigaOne is a series of computers intended to run AmigaOS 4 developed by Hyperion Entertainment, as a successor of the popular Amiga series by Commodore International. Earlier models were produced by Eyetech, and were based on the Teron series of PowerPC POP mainboards. In September 2009, Hyperion Entertainment secured exclusive licence for AmigaOne name and subsequently new AmigaOne computers were released by A-Eon Technology and Acube Systems. In September 2009, as resolution of dispute over ownership of AmigaOS Hyperion was granted (among other provisions of Settlement Agreement with Amiga, Inc.) exclusive licence for the AmigaOne name. This Settlement Agreement thus created legal basis for new generation of AmigaOne computers. In February 2010, a new company A-Eon Technology, in co-operation with Hyperion Entertainment, officially announced a new AmigaOne model, the AmigaOne X1000, first presented at the Vintage Computer festival at Bletchley Park in June 2010. A-Eon Technology announced at Amiwest that A-Eon Technology signed a 1.2 million-dollar(!) investment contract with Ultra Varisys for the ongoing design, development and manufacture of PowerPC hardware for its AmigaOne line of desktop computers.
The AmigaOne 500 by Acube systems Italy was the complete, ready to run solution for all Amiga users. Built around the well known Sam460ex, the AmigaOne 500 will let you run AmigaOS 4.1 straight out of the box. No need to look for and install peripherals, no need to hassle with software installation procedure. Just plug your monitor, keyboard and mouse and press the power button to enter into the world of AmigaOS. If you ever used the old Amiga 500 you will find that the new AmigaOne 500 takes this legacy to a new level: extra speed, modern interfaces (DDR2 memory, USB2, PCI Express, SATA2, Gigabit ethernet), onboard sound, faster graphics, and able to run the most up to date Amiga Operating System for Hyperion Entertainment CVBA.
AmigaOne X1000 is the high performance AmigaOS computer system assembled around the Nemo motherboard. It is compatible with latest AmigaOS 4.1 operating system and also a wide range of selected Linux distributions. The AmigaOne X1000 has a spacious case design which gives you the flexibility to add more hard disk drives, optical drives, memory and expansion cards. The motherboard features 4x DIMM memory slots, 10x USB 2.0 connectors, 4x PCI-E slots, 2x PCI legacy slots, 1x Xorro slot, 4x SATA 2 connectors, 1x IDE connectors and 1x Compact Flash slot making the X1000 a truly expandable machine! The AmigaOne X1000 also is equipped with a XMOS (500 MHz) processor and Xorro expansion slot on the motherboard. Capable of eight concurrent real-time threads with shared memory space, at up to 500 MIPS, Xena gives the X1000 a very flexible, very expandable co-processor. The uses are endless; control hardware, DSP functions, robotics, display – even SID chip and console emulators. The new RadeonHD Graphics Card Driver v1.2 has been developed for using the latest RadeonHD graphics cards in modern AmigaOS computers such as the AmigaOne X1000. Using Workbench 4.1 on the AmigaOne X1000 is fast and responsive with compositing visual effects enhancing the experience. Another first for AmigaOS is the new HD Audio driver which unlocks advanced sound features on the X1000 motherboard in AmigaOS 4.1.
The AmigaOne X5000/20 is the fastest computer ever engineered to run AmigaOS natively. It's modern features will offer new and exciting potential to the AmigaOS market. It is important to note that this motherboard code named Cyrus was designed from the very start to run AmigaOS. The AmigaONE X5000 CPU features a very powerful 64-bit PowerPC e5500 Architecture-based microprocessor core from Freescale Semiconductor. The AmigaOne X5000 System, comes all together with a premium Fractal Design Core 2300 case. Top quality 500 watt power supply, a sound card, VisionTek Radeon HD 7750 graphic card with 1GB GDDR5 memory, 4GB ram and a 1.0TB Seagate Desktop HDD 3.5-inch SATA 6.0Gb/s 7200RPM Hard Drive, LG Internal DVD/CD-writer reader. This system is running Warp3D and Warp3D Nova including the new OpenGL ES 2.0! The AmigaOne x5000 system "first encouters bundle" is available on several webstores like Amiga on the lake, and many others.