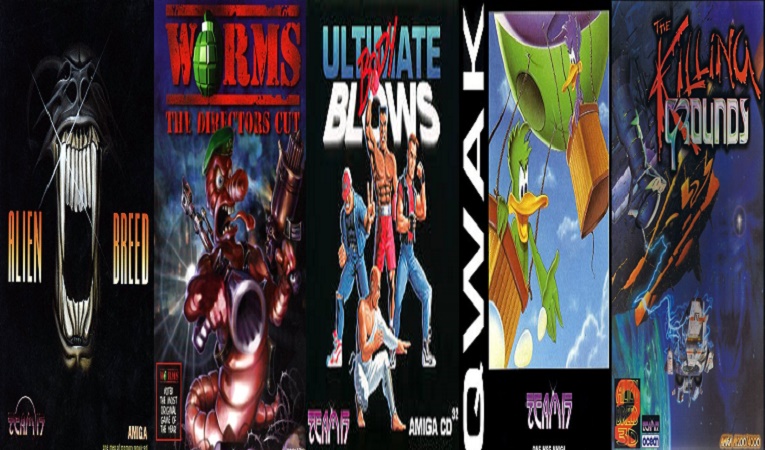 Team17, is a British video game developer best known for creating the Worms and Alien Breed video game series. Most of their early releases were on the Amiga home computer system and featured trademark smooth scrolling, and detailed graphics. Since the release of Worms, the franchise has gone on to be very successful, selling over 12 million units worldwide. This all-platform success contributed towards Team17's decision to cease publishing Amiga titles in 1997, as the platform had long been in a state of decline. They released Worms: The Director's Cut exclusively on the Amiga to say goodbye to the platform they very loved and started there successful business. Here are 5 great Commodore Amiga classics by Team17!
Alien Breed is the first in the Alien Breed series of science fiction shooter video games played with a top-down view, for one or two players. It was released in 1991 by Team17 for the Commodore Amiga. The players collect or purchase a variety of weapons from the space station's computer terminals. In some versions of the game, these so-called Intex terminals provide additional features such as a clone of the classic computer game Pong. Credits found on the ground have to be saved for these weapons and other enhancements, each giving the players an edge over the gradually more and more powerful Alien forces. In advanced levels, players are occasionally trapped in enclosed spaces with huge "boss" aliens, reminiscent of the Alien Queen. Alien Breed Special Edition '92 was an expanded version, published in 1992, at budget price. It was hugely popular, staying in the British software charts for more than a year.
Worms: The Director's Cut is a sequel to Worms, an artillery strategy game developed by Team17. It was programmed by Andy Davidson and released in 1997 for the Amiga platform only. The player has control of a team of worms and takes turns at attacking either computer or human opponents controlling other teams. The game was developed solely for AGA Amiga systems and so was designed to take advantage of the more advanced graphics that these systems could produce. The Director's Cut was received well by critics, with Amiga Format and CU Amiga publications awarding the game 90% and 91%.
The heat is on and so is the fight! Here you meet the tough guys head to head in this edge of the seat, action packed beat-em-up. Featuring Arcade, Tournament and 2 player game modes with intuitive control system for easy character control.Body Blows is an Amiga versus fighting game. It was released in 1993 by Team17. The game has a lot of similarities to Street Fighter II, for example, both had two characters with projectile, rising uppercut and spinning kick special moves.
The object of the game is to guide a green duck through eighty levels. Fruit and gems can be collected for points, and enemies are eliminated with projectile egg weapons. Progress through the game is earned by collecting gold and silver keys. There are a variety of power-ups also available, including 'chocolate egg' weapons and extra shots. In addition to the normal-style levels, the challenge levels require the player to complete levels and collect all fruit within twenty seconds. The game had over 80 levels. The Amiga version was awarded 92% and a 'Gamer Gold' review by Amiga Computing magazine.
Alien Breed 3D II: The Killing Grounds is the fifth game in Team17's Alien Breed franchise. With the success of Alien Breed 3D, Team17 decided to follow it up with a sequel. This time Team17 was aiming even higher, hoping to recreate something similar to the Quake engine on an Amiga. Their project, however, was perhaps over-ambitious. Most Amigas of the time struggled to run the game, even with upgraded RAM and accelerator cards. Even with the fastest CPU at that time, the game could not be played smoothly with high details in fullscreen. The source code of the game was released a few years ago…